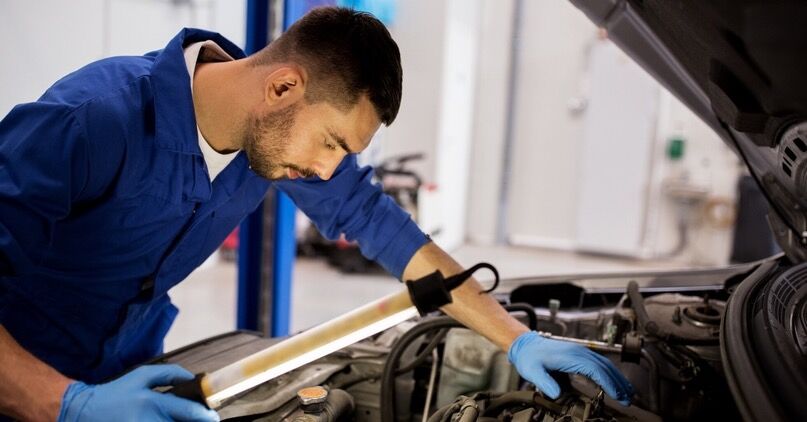 Affordable Mechanic Shop Near Salt Lake City, Utah
Ace Auto Repair is a trusted name in the auto repair industry. We provide quality car care to customers in the West Jordan, Utah area. Our trained technicians are qualified to handle various repair and maintenance tasks, and we use only the latest technology and equipment to ensure your vehicle receives the best ASE certified service in West Jordan, Utah.
Our automotive mechanics understand that your car is important to you, so we work hard to ensure that you're completely satisfied with our services. We offer a wide range of services, from replacing brake pads, oil changes and tune-ups to major engine rebuilds, you can count on Ace Auto Repair. Plus, we offer convenient hours and affordable auto repair rates, so you can get the quality car care you need without breaking the bank.
Call the Trained Technicians at Ace Auto Repair for Free Auto Repair Quotes in West Jordan, UT.
Call Ace Auto Repair - (801) 803-6016
Auto Repair and Mechanic in West Jordan, UT Service List:
Specialty Automotive Repair Services
What Our Customers in West Jordan, Utah are Saying
---
---
Brands We Service:
Acura
Buick
Cadillac
Chevrolet
Chrysler
Dodge
Ford
GMC
Honda
Hyundai
Jeep
KIA
Lexus
Lincoln
Mazda
Mitsubishi
Nissan
Subaru
Toyota
Volkswagen
---
When you're getting auto repairs done, it's important to know what the trained technicians are talking about. Here are some very brief definitions of terms to introduce you to industry vocabulary used by your auto repair and maintenance specialists to refer to vehicle parts and service procedures. Click here for common Automotive Industry Terminology.
---
Frequently Asked Questions
Why Choose Ace Auto Repair?
At Ace Auto Repair in West Jordan, Utah, we understand that finding something wrong with your vehicle is inconvenient, even if it's a minor issue, and can be very stressful if it's more serious. We know our customers need to be able to depend on their auto repair shop to be committed to their best interest and make the process as smooth as possible and deliver a good value.
Ace Auto Customer Care
There are troubling stories from customers who are surprised to hear they have paid excessive amounts for unneeded maintenance services or repairs in the past. Our team at Ace is dedicated to providing our customers with the best repair service in the Salt Lake City metro. That, of course, includes performing only the work necessary and using only the parts required to do a quality job.
We recommend only the routine auto maintenance services that your particular vehicle actually requires for optimum long-term performance, and we never add unnecessary work or parts to the bill. Our staff maintains detailed records of maintenance services and repairs we perform on your car.
Top Quality Auto Mechanics
Our highly experienced car mechanics can identify the root cause of a mechanical issue faster than the auto service technicians in most repair shops. We bring a combined total of decades of professional experience to diagnosing and correcting any functional problem your vehicle may have. That includes the engine, drive train, transmission, suspension, electrical system, engine cooling system, cab air conditioning, computer system, or any other problem in your vehicle.
Our team has ready access to all auto service manuals for all vehicle makes and models. The vehicle information resource we use contains all the Technical Service Bulletins (TSB) accessible to Original Equipment Manufacturers (OEM). The database also includes recall notifications and details. With this vast information reservoir available with a few clicks, along with our team's collective expertise, we can repair and maintain any vehicle make and model. This includes hybrids and diesel-powered vehicles.
Our Commitment to Value
We believe that every one of our customers should expect and be able to trust that their auto repair service team is working on their behalf to obtain the best available auto parts and supplies for them at the best available prices. We acquire OEM parts at the same or lower cost than the cost for which you could buy the parts from a dealer.
We rarely have an issue with this effort, but if a pricing problem does arise, we take responsibility promptly and work to resolve it for our customers quickly. Some customers have expressed that that's a refreshing change from their previous experiences over the years.
Best Auto Mechanic West Jordan, Utah
When you need to have a part replaced or other work done on your vehicle, we are here to provide you with the SLC metro area's best auto maintenance and repair service.
Ace Auto Repair offers a one-stop facility for all vehicle mechanical maintenance and repair services. All our car mechanics are all ASE Certified. Each member of our team stays current with industry service information updates for the latest vehicle technology systems.
ace auto
ace auto repair
auto repair shops in utah
ace automotive repair
auto transmission west jordan
ace repair shop
ace car repair
auto mechanic west jordan
ace mechanics review
car repair utah oil change kearns utah
auto repair herriman ut
oil change utah
auto mechanic services
fast mechanic service
ace auto air & muffler
auto mechanic sandy utah
oil change slc ut
volkswagen repair ogden utah
auto mechanic riverton
auto mechanic photos
auto mechanics utah
oil change saratoga springs
oil change salt lake city
auto mechanic pics
oil change salt lake
ace auto repair west jordan
auto shop west jordan
auto shops in west jordan utah
car repair west jordan
auto mechanic west jordan
car repair west jordan ut
auto repair shop utah
utah auto repair
jordan mechanic
car repair south jordan utah
April Meadows
Westwood Ranchettes
Bloomfield Heights
Teton Estates
Pebblecreek
Maples
Midvalley Terrace
Willow Glen South
Colonial Estates
Bluffs at Oquirrh
Boulder Canyon
Jordan Highlands
Jordan Landing
Jordan Oaks
Majestic Meadows
Meadow Green Farms
Meadow Ridge Dr
Michaelsen Way
Mountain Shadows
Florentine Way
Fontaine Claire
Fox Pointe Ridge
Wheatridge
Whispering Pines
Wight's Fort
Wild Flower Acres
Wilshire Place
Willow View Estates
Wescall
Williamsburg
Wasatch Meadows